Heeeyyy, readers! I'm back this Sunday with a fun unboxing for you all: Owlcrate's first Limited Edition box in collaboration with a beloved author, V.E. Schwab, featuring her newest book VENGEFUL – the highly anticipated, 5-years-in-the-making sequel to VICIOUS.
Now… let the unboxing begin!
P.S. Don't let your jealousy RUIN YOU 😉
Looks-wise, I love the design for the ELI candle… scent and character-wise, I'm very partial to the VICTOR candle. There's no official description of the scents though…all I know is I don't like the scent of the ELI candle at all – reminds me of the suffocating scent that hits me whenever I enter a Kirkland store or some arts & crafts store. On the other hand, the VICTOR candle is a very clean and shall I say manly just-got-out-of-the-shower smell? Anyway, I likeeeyyy.
I remember Mitch and he was one of my favorite characters in Vicious, because he was just so unexpectedly nice… and smart. I don't remember him loving chocolate milk though, but that sounds like him, alright!
This lip balm smells and tastes sooooo yummmy (yep, once again, I kind of ate it…)
Wouldn't say I was thrilled about the socks exactly, but it's kind of cool. Hopefully my mom would like it… haha! I don't wear socks, it's too hot for me (even during the winter)… my feet feels suffocated lol.
The design was apparently inspired by the new Vicious cover (redesigned by Wil Staehle, artist of the ADSOM trilogy covers):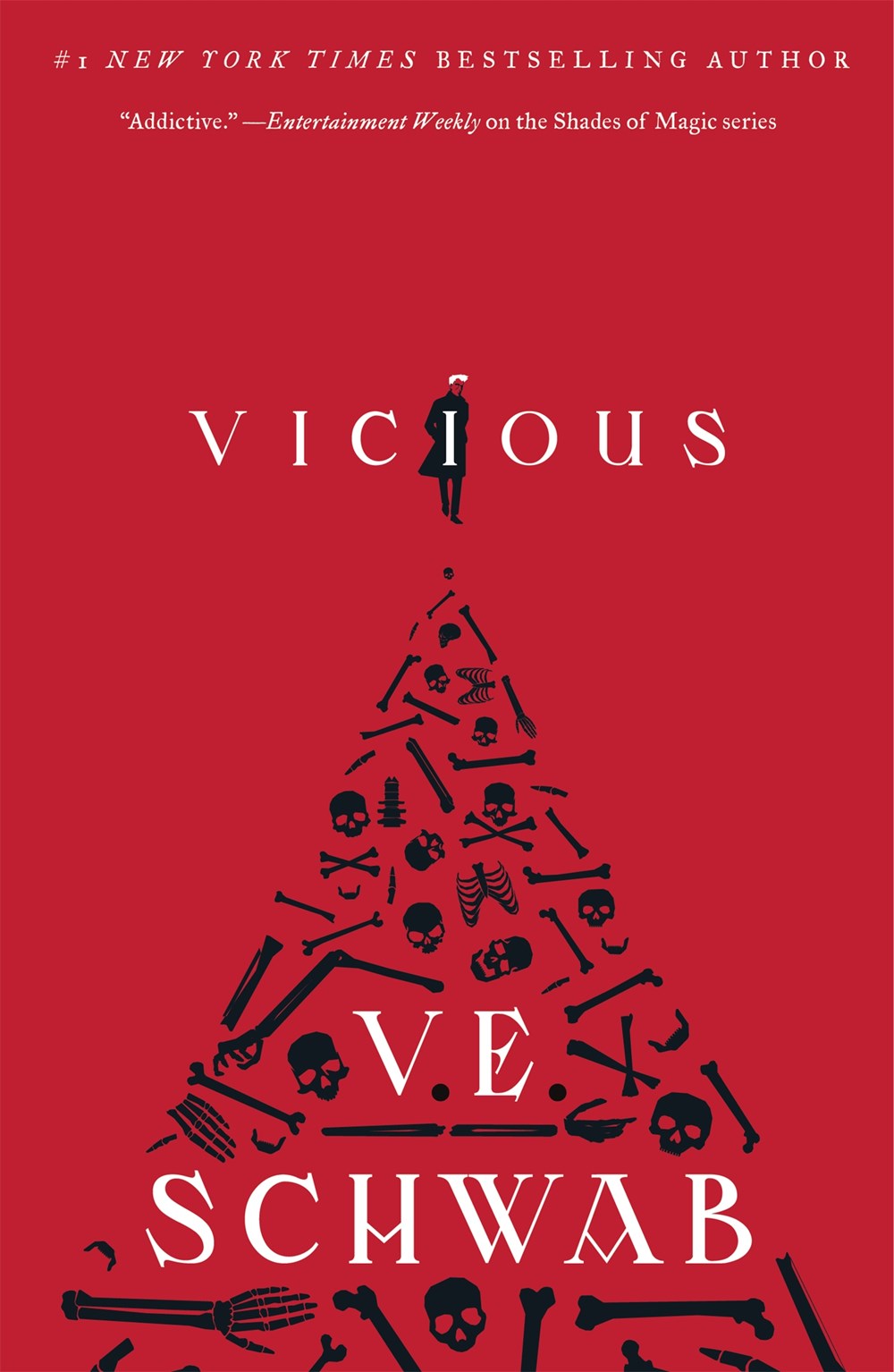 I would say this box is just perfect for the Halloween season – I'm not very fond of it, but at least it features probably one of the most-well known quotes from VICIOUS.
And now we come to my favorite item from the box! I love stationery items! And I think black-out poetry's pretty cool… if I'm not mistaken, the UK covers look like this. Can't wait for my Illumicrate box that should include an exclusive UK cover for VENGEFUL. But, wait.. I'm getting ahead of myself.. let's finish this unboxing first.
Aren't Melie's illustrations so on-point?? Victor looks so badass, Eli looks despicable (because he is), and Sydney and Dol looks so innocent.
And this Marcella is certainly intriguing – she kind of reminds me of Lila Bard from the ADSOM trilogy.
Signed first edition of VENGEFUL + sticker + mini EO enamel pin
The cover looks sleek (wooohoo, I finally have a signed V.E. Schwab book!) and honestly, it took me a few seconds to figure out what the little person was about lol.
And last but not least…
VICIOUS + VENGEFUL spoiler card + newsletter + Owlcrate button
Let's all just take a step back and appreciate the all-black Owlcrate Limited Edition box… I don't have a pic for you guys, but the interior is red so it matches the black and red theme of VENGEFUL's cover.
And that concludes today's unboxing! Thanks for reading!
Have fun, and stay peachy 😉