WWW Wednesday is hosted by Taking on a World of Words
Can't believe it's Wednesday again – another week has come and gone! Thankfully, I've kept myself fairly busy over the past week!
This week, I bring to you the three Ws…
What are you currently reading?
One of my current obsessions is Netflix's Anne with an E but I've been trying to watch just one episode per night (there's only 7 right now) and I only have 2 episodes left – can't wait for Season 2!! The series is based on Anne of Green Gables which has to be on my top 5 all-time favorite books.
So last night, I picked up the sequel, Anne of Avonlea which I started last year but never finished because my original copy got completely soaked and I lost my bookmark. I spent around 20 minutes looking for the page where I left off (it's been a whiiiille) in my new copy!! Thankfully, I remembered enough and found the page.
tl;dr I'm loving it!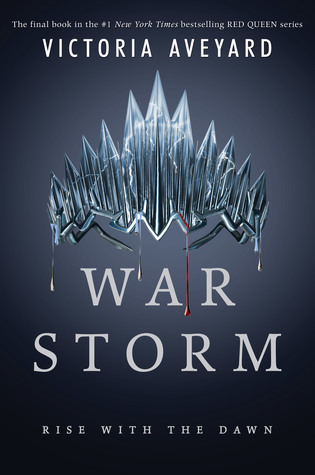 I've been so excited for War Storm but now that it's here…. oh you know what I mean! Anyway, I read probably about 50 pages or so but it's so slow and I'm kind of annoyed with Mare's POV – she just seems so whiny. I do want to finish it by the end of June, at the latest though! I need to know the ending of this series – I've waited yearssss!
How was I ever going to learn to swim in an ocean of deceit?
Sequel to Flowers in the Attic, Petals on the Wind is just as engrossing – I can't help but ship Chris and Catherine anyway!! I just love everything about it!
I'm actually going to be one of the hosts – I'm going to do a review! – for the upcoming blog tour for The Boyfriend Bracket (my stop is on July 5!) so naturally, this is one of my current reads! It was a nice surprise because I think it's actually written by a Filipina like me – there were some cultural references in the Prologue and from what I can tell from the author's bio!
And don't you just love that cover?? I'm in love with pastels ❤
What did you recently finish reading?
Chemistry Lessons was a little bit of a let-down for me towards the end – it had a very promising beginning but it just kind of fell short and ultimately left me feeling meh. 
Given to the Earth is the conclusive sequel for one of my reads last year, Given to the Sea. I actually ended up really loving the end and my only complain is that I wish the epilogue was longer!! It was a very satisfying sequel though, and I really think it's an underrated series, and not enough people talk about it 😦
You've probably heard all the rave about Ace of Shades, and I'm just going to be one more person that's going to rave about it. It wasn't the page-turner I thought it would be, but it's extremely well-written and I can just tell that Amanda Foody is going to be one of those authors I trust to build great fantasy worlds!!
Sorry, I'm so behind on my reviews so I can't link to any full review T_T I might have to resort to mini-reviews, but I don't like writing those – I know I'll just end up writing a review that's way too long to be called a "mini" review
What do you think you'll read next?
I didn't think I'd be able to get a hold of an ARC for Grace & Fury but I risked and e-mailed the publisher – and my wish got granted when Tracy Banghart's publicist responded! So if you really really want an ARC, you might want to try and e-mail the publisher directly – it's definitely worth the effort, there are plenty of templates floating around (though I'll be happy to help you if you message me on IG/Twitter/Goodreads!)
I normally don't like real people faces on the cover, but this one somehow looks pretty anyway – so I'm excited to dive into it, when I'm ready for a new fantasy read.
Have you read or are you reading any of these books?? Let's chat!
And if you do this meme, please leave your links below so I can check them out!