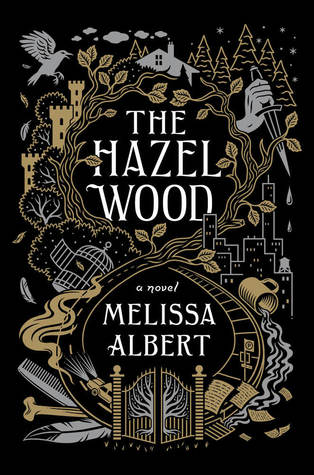 It's hard, isn't it, to find you're not at all the thing you thought you were?
My synopsis: Alice Proserpine isn't a normal teenager at all – from youth, strange and dangerous occurrences have been going on around her – following her and her mom, Ella, wherever they move. She's been all over the country, always running but never outrunning the danger. Until Ella receives news of Althea Proserpine's – her mother's, Alice's grandmother's, reclusive author of Tales from the Hinterland – death. Ella thought that Althea's world of dark fairy tales is the root of their misfortune and her death meant the end of it. Alice wanted to believe the same but when Ella disappeared and was reportedly taken by people from the Hinterland, she had no choice but to follow the clues and go where her grandmother lived… The Hazel Wood. 
Published January 2018
Genre: YA Fantasy, YA Urban Fantasy, YA Magical Realism
Themes: family, past, fairy tales, reality, cult, freedom, rescue, identity
Goodreads / Amazon / Barnes & Noble / Book Depository
The Hazel Wood is dark, strange, wildly unique – perfect for fans of Alice in Wonderland. Melissa achieves a great blend of urban and fantasy, magic and reality.
The plot picks up fairly quickly (around Chapter 7?) and I think a lot of things happen right away and I'm caught by surprise several times. There were definitely a lot of shocking turns and interesting moments.
Everyone is supposed to be a combination of nature and nurture, their true selves shaped by years of friends and fights and parents and dreams and things you did too young and things you overheard that you shouldn't have and secrets you kept or couldn't and regrets and victories and quiet prides, all the packed-together detritus that becomes what you call your life.
Alice Proserpine, as a character, isn't sweet as cotton candy but it's not at all hard to wish her luck. She's tough and unpretentious but she's also not too prideful to ask for someone's help when she so obviously needs it. Her mother-daughter relationship with Ella is a delight, but a surprising little fairy tale twist is her relationship with Audrey, her stepsister – only nailing further the fact that the author isn't going for your average fairy tale.
The romance isn't the main thing here, but you can tell it's there… and at this point, it's hard to tell where it's going or if the author will decide to pursue it further or not.
I like the originality of the Tales from the Hinterland and that despite their darkness and almost nonsensical themes, you can't help but like them. I can't wait to read it when it comes out!
I think that it's a bit of a polarizing read. It's easy to tell that it won't suit everyone's tastes, but will definitely be perfect for a particular crowd. As for me, it's not something I would pick up on my own nor did it go to my top favorites, but I quite enjoyed it and finished it in a couple sittings. For its level of strange, I'm even surprised I liked it, which says a lot about Melissa Albert's captivating writing style.
Overall, I recommend it to those who like fairy tale and dark and strange reads. And for those who aren't keen to read a first book in an unfinished series, I can guarantee that this can be read as a standalone! 🙂
Shop for similar reads: 
Have you picked up The Hazel Wood yet? How do you feel about strange and wildly imagined tales? What are some of your favorites?