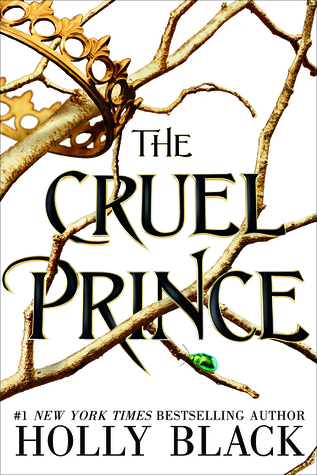 The odd thing about ambition is this: You can acquire it like a fever, but it is not so easy to shed.
My synopsis: Jude is a mortal living in Faerie, the land of immortals, protected and sheltered by the man who murdered her parents. Surrounded by betrayal and destruction and driven by ambition, Jude finds herself in the middle of it all and discovers the extent of what she is willing to do to find her place – including conniving with the ruthless, cruel prince. 
Published in January 2, 2018 by Little, Brown Books for Young Readers
Genres: YA fantasy, dark fantasy
Themes: royalty, fey, immortality, being human, family, regicide, betrayal, murder, espionage, lying, evil plots, ambition
Series: The Folk of the Air #1
Upcoming: #2 The Wicked King (2019), #3 The King of Nothing (2020)
370 pages
Before, I never knew how far I would go. Now I believe I have the answer. I will go as far as there is to go. I will go way too far.
Riveting, dark, and wildly imagined – The Cruel Prince held me captive in the world of Faerie from its very first pages – despite my ready cynicism naturally borne from all the hype. Let me tell you now, it is worth ALL the hype and more.
I am new to Holly Black's writing, apparently, she is dubbed The Faerie Queen. But after this, I am completely convinced that she deserves all the praises.
Faerie and the immortal creatures within it are equally dangerous, tempting, and seductive. Like Jude, the readers are just as easily drawn to the lush setting and the beautiful faeries.
Now tell me, which part was the lie? Did I lie at all? Because what's so great about lying is the not knowing.
Politically charged and ingeniously plotted, Holly Black gives you the treasure chest, but never the key. She gives you the breadcrumbs, but by the end of it, you realize you've eaten all the bread, leaving you lost in the woods of Faerie. It shocks and distracts at every turn – and you can't help but love being the fool.
As for the characters, they are extremely intriguing, with their complex motivations and ploys: not one can be easily loved or hated, not one deserving of absolute admiration or absolute despise. And the relationships between the characters are so original and unexpected, intricately woven and not easily unraveled.
---
SPOILER WARNING!!!!
Now I couldn't just go on without discussing specifics – after all, it will probably be more than a year before I get to read the sequel.
The first thing I appreciated is Jude's relationship with Madoc. It breaks tradition, it's not black and white. He murdered her parents, she should hate him. But he took them in and actually treated them as his own, not from any sort of ulterior motives (at least from what we know of, at this point). So she does love him, and hate him. And it's hard to explain, and I love that.
Because you're like a story that hasn't happened yet. Because I want to see what you will do. I want to be part of the unfolding of the tale.
Quite predictable, how this relationship turned out really. But I just think it's curious that Locke set his sights on Jude from the get-go. It was as if before she even knew what she was capable of, he did. For a while, I thought he would be the mastermind of the whole treasonous plot, after all.
They're twins, but they fight A LOT. And I like the lack of loyalty. It's unusual and unexpected. I like that Taryn doesn't think twice about saving herself even though it means betraying Jude. I like that Jude does care, but she wasn't such a pushover to leave Taryn guilt-free about the whole affair with Locke.
But kissing Locke never felt the way that kissing Cardan does, like taking a dare to run over knives, like an adrenaline strike of lightning, like the moment when you've swum too far out in the sea and there is no going back, only cold black water closing over your head.
We all saw this one coming. From the cover, from the title page, from the very beginning. What I loved was when it actually came, there's still that gray area. It wasn't your average love-hate relationship. Cardoes DOES hate Jude. And Jude DOES hate Cardan. They don't love each other – they lusted for each other. I can see this relationship developing, but I love where it stands right now.
Taking what we wish, indulging in every terrible thought. There's safety in being awful.
She doesn't flinch when she commits murder for the first time. She isn't afraid of making the hard, arguably, the wrong choices.
I'm sure I ended up not listing everything I wanted to discuss, there are simply too many points – but if you've reached this point, THANK YOU!
END OF SPOILER !!!!
---
P.S. I was surprised at how many quotes I highlighted, but if you're curious, here's a list of mine! 
If you've already read The Cruel Prince, did you love it, hate it?
What are some of the quotes you liked?
Obviously, I didn't discuss EVERYTHING, so what did I miss? So keen to discuss this book, so PLEASE drop your thoughts in the comments or tag me or whatever! 
I like for things to happen, for stories to unfold. And if I can't find a good enough story, I make one.